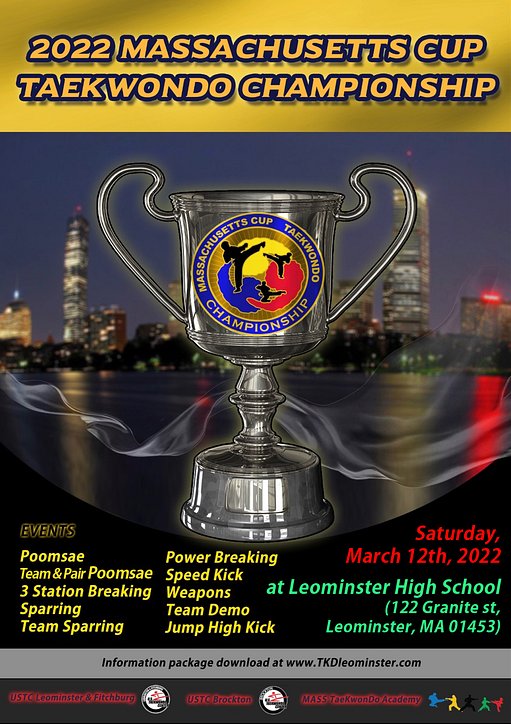 2020 MASSACHUSETTS CUP
TAEKWONDO CHAMPIONSHIP
Dear students, masters and parents!
Thanks to the support of all our students, parents, and masters we are able to bring you the 2022 Massachusetts Cup Taekwondo Championship. Due to Covid-19, we could not have our championships in two years. We have really missed the atmosphere of championship. Finally, we are opening our championship again in 2022. We are so excited to introduce some changes from the last championship and a few additions to the competition rewards. As you know, we have a very large focus on team competition, including Team Poomsae, Team Demo, and Team Sparring. We love to support and see students working together with their best effort. Beginning this year, we will award the school with the highest overall score in these divisions with our Massachusetts Cup. This cup will remain with the highest scoring school until the following year's Massachusetts Cup Championship, when the schools will be able to compete to win the cup again. We hope that this can encourage students to work as a team and support each other and their schools. We wish you the best luck and hope that we can have a fun and safe time competing.
We would like to give our sincerest thanks to all the families, masters, volunteers, referees, and everyone involved in making the 2022 Massachusetts Cup possible.
Sincerely,
Master Myoungho Jun